BIOGRAPHY
"I've pretty much learned I can let that [being black] hinder me if I want to ... or I can fight for different kinds of roles."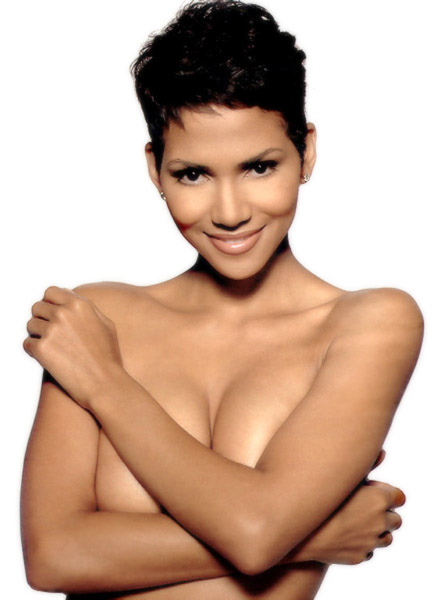 Halle Maria Berry was born on the 14th August 1966 in Cleveland, Ohio (U.S.A.).
As a youth Halle attended the Bedford High School. Despite experiencing problems because of her race, Halle proved to be a bit of a model student. She was a cheerleader, editor of the school newspaper, was an honour society member and a class president. Despite her colour she was even crowned prom queen one year. While at school Halle entered various beauty pageants and won. Naturally Halle considered university upon graduation. She chose to study Broadcast Journalism at the Cuyahoga Community College.
Halle did not remain at the Cuyahoga Community College to pursue a career in journalism. Instead Halle decided to pursue a career as an actress and began studying acting in Chicago. Halle managed to get small roles in various TV series such as "A Different World", "They Came From Outer Space" and "Amen. However, positions were few and far-between so Halle decided to model to subsidise her career pursuits.
First Break
Halle's acting career took off in 1989 when she got a role playing "Emily Franklin" in the TV series "Living Dolls". Ironically, it was just as Halle began carving out a career as an actress that she was diagnosed with diabetes. She was diagnosed with the illness after collapsing into a diabetic coma while taping an episode of the show. Despite this, she continued to pursue with her dream. Shortly after getting her first role in a series Halle scored her first big screen role as "Vivian" in Spike Lee's controversial movie "Jungle Fever". However, this did not lead to bigger and better things straight away and Halle had to return to the small screen to play "Debbie Porter" in the series "Knots Landing".
Halle continued trying to build on her movie experience and soon landed small roles in the movies "Strictly Business" and "The Last Boy Scout". From this, Halle went on to get larger roles in other movies (such as "Boomerang" and "The Flintstones"). Over the next few years Halle would prove her versatility, playing a mixture of roles that varied in their depth of intensity. She went from playing the fun-loving "Sharon Stones" in the hit movie "Flintstones" to playing the sombre role as "Khaila" ("Losing Isaiah") in her next project. As in the movie "Flintstones" most of Halle's roles, prior to "Losing Isaiah", had been fairly light-hearted. Initially the movie director of "Losing Isaiah" did not think she would be able to carry off the role as Khaila. She was invited for an audition out of politeness. Speaking of his hesitancy to audition Halle, Gyllenhaal stated "I saw nothing in her work that suggested she could do this ... I was wrong!".
"Dorothy Dandridge"
Despite playing some strong roles Halle has tended to lack getting any major recognition for her acting. Her first taste of recognition came in the year 2000 when Halle won an Emmy following her portrayal of "Dorothy Dandridge" in the movie "Introducing Dorothy Dandridge". Dorothy Dandridge was the first black woman to be nominated for an Oscar in the category of best leading actress ("Carmen Jones"). The actress had been more-or-less forgotten by the mainstream. Halle wanted to make a movie about the actress as a way of preserving Dorothy Dandridge's legacy. In the movie "Introducing Dorothy Dandridge" Halle got has first taste of producing a movie. Speaking of her role in the movie Halle said "Dorothy gave me the greatest gift. She gave the opportunity, after 10 years of struggling in this business, to be a leading lady." In another interview she went on to say: "My acting life did change after doing Dorothy ... [previously] I felt like I had a lot to prove. Now I think I get a different kind of respect."
Halle went on to play "Storm" in the block-buster movie "X-Men".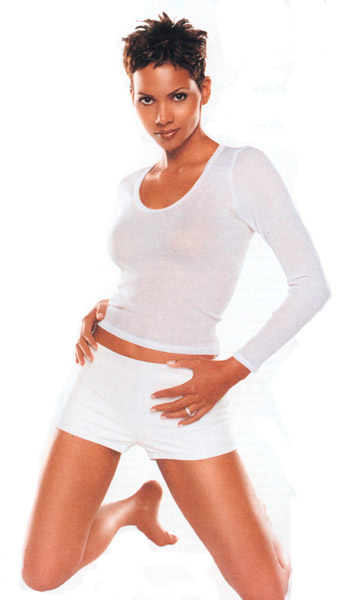 More recently Halle played the controversial role of "Ginger" in the movie "Swordfish", for which she earned $2,500,000.00 (rumoured to be her highest earner to date). Although her topless scene caused a stir amongst the media Halle enjoyed playing "Ginger". Speaking of the fact that the role of "Ginger" could have been played by a woman of any race Halle stated: "That's what made me really excited and that's what made me get over the nudity really quickly. I saw this as an opportunity to take a black woman to another place where we haven't gone before. Because that has been my struggle: To just be a woman in a movie and not let the fact that I'm black hinder me from getting parts that my white counterparts are able to play. So this was a big step in that direction."
Other Projects
Between film projects Halle helps the charities that are closest to her heart including the Juvenile Diabetes Association and the National Breast Cancer Coalition. She also enjoys a multi-million dollar package as a spokeswoman for cosmetics giant Revlon.
Halle is truly an inspiration and a role model for us all. May Halle Berry's life and career continue to blossom over the next ten years!!